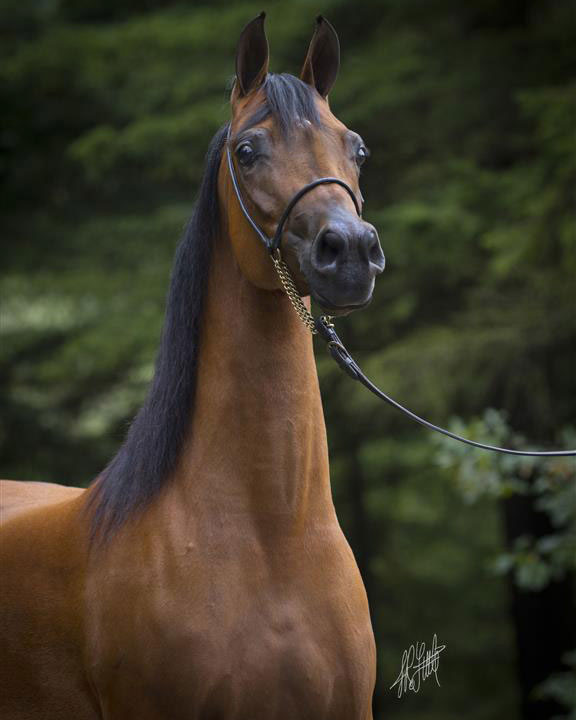 (Erykk MF x Ginuine)
2009 Bay Mare AHR 642225
Gala's grand dams *Era (Carycyn x Eskapada by Nabor) and *Gitara (Eskimos x Gildia by El Paso) are two of the cornerstones of our breeding program. *Era proved her talent as an exceptionally gifted park horse before finding her way to Maplewood, while *Gitara exhibited her strengths in the halter arena, where we campaigned her to multiple wins at an advanced age. Gala fulfills Maplewood's endeavor to replenish the bloodlines of the illustrious *Gitara in our mare herd.
We are determined to dispel the myth that beauty and motion are mutually exclusive. With beauty and tremendous motion coming from all corners of her pedigree, Gala is the embodiment of this goal. Gala possesses every bit of the quality we saw in her grand dam *Gitara; the mystique about her, the intelligent yet youthful and curious eye, and the arrogance! Additionally, the contribution of her sire Erykk's strengths is obvious. She is blessed with the gift of motion that exceeds that of any of mares in her female family. We can attribute her heart-pulsing motion and dramatic hock-action to *Era, all qualities which Erykk is transmitting with startling consistency.
Gala, with her uniquely expressive and alert eyes, together with her smooth and correct body, athletic structure, and forward looking 'tight' ears, make for a pleasant package to represent our farm's continually evolving breeding program.
Show Pedigree
| | | | |
| --- | --- | --- | --- |
|   |   |  NEGATRAZ |   |
|   |  BALAGAN |   |   |
|   |   |  MHR PORT MACJA |   |
|  Erykk MF |   |   |   |
|   |   |  CARYCYN |   |
|   |  *ERA |   |   |
|   |   |  ESKAPADA |   |
| | | | |
| --- | --- | --- | --- |
|   |   |  *DAR |   |
|   |  MEDALION |   |   |
|   |   |  MARUSHKA |   |
|  Ginuine |   |   |   |
|   |   |  ESKIMOS |   |
|   |  GITARA PASB |   |   |
|   |   |  GILDIA |   |