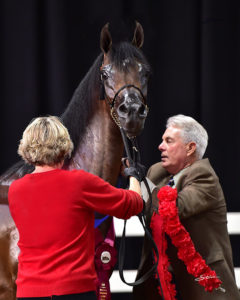 The years 2020-2021 were tumultuous for all, given the COVID pandemic. Managing farms, keeping people safe and the horses safe during changes in routines, was challenging. Shows and Endurance events were eliminated, cancelled or postponed; the ability to test your breeding program in a public forum for scrutiny and accreditation, were not available.
Interestingly this paradigm shift, focused the Industry to rediscover the real LOVE of the horses as we all retreated back to simple pleasures of horsemanship. Without jobs requiring presence in the Office, there was a resurgence in Buyers who wanted a new horse for pure enjoyment and companionship with their newfound time. What a pleasure that was to provide horses for that reason! Maplewood enjoyed the experience seven times, Kingsman, Beckham, Madison, Magnus, Rhegan, Magic Van Ryad and Gotti MF all have found new homes.
Most recently we are very proud to have finalized a partnership with Midwest Arabians and David Boggs, three years in the making, with the mare Falcons Promise ORA! She will be producing world class foals with some of the greatest stallions to have ever contributed to the Arabian Bloodstock. David and his family owned the dam of Promise – the infamous LL Abufera. Promise will be carrying on the tradition. Thank you David!