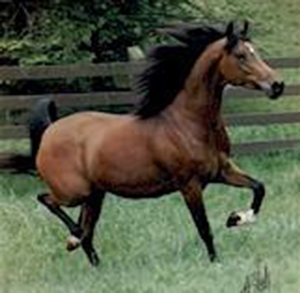 (Europejczyk x BOH Romance)
1992 Bay Mare AHR 480234
It is with great sadness that we acknowledge the loss of the exceptional Romantykk. The most beloved mare at Maplewood, Romantykk graced us with her charm, dynamic presence, and kind nature for 17 years. Her classic breed type, dramatic movements, and ability to produce these traits helped us to define our vision for the ultimate Polish Arabian mare.
The dam of Roscoe Divine and Rapachini, she was the most talented mare we have owned. Her hackney-like trot including extreme hock action translated into serious motion for subsequent generations. This mare was well over 15 hands and had incredible presence.
Her dam, BOH Romance, was Maplewood's premier broodmare for many years and was considered by many to be the most beautiful daughter of Negatraz. An aristocrat dam of champions, her best produce include US Top Ten Revelry, Regional Top Five Rockette MF, Western Pleasure Champion ATouch Of Romance, halter champion Rebok and our precious broodmares Revlon MF and Nina Ricci MF.
Romantykk's sire, Europejczik, is a Polish National Champion Stallion and an undefeated Triple Crown winner on the Polish track. Considered the best son of US National Champion El Paso and Polish National Champion Europa (full sister to Eukaliptus), Europejczyk is the sire of numerous international halter and performance champions.
Her passing marks the loss of not only our most talented broodmare, but also the foal we were most excited about, the treasured Erykk MF filly she was carrying.
For those who knew and loved Romantykk, her passing was a tremendous loss. We look forward to procuring this valuable blood in future generations through her maternal sister Nina Ricci MF.
Show Pedigree
| | | | |
| --- | --- | --- | --- |
|   |   |  CZORT |   |
|   |  EL PASO |   |   |
|   |   |  ELLORA |   |
|  Europejczyk |   |   |   |
|   |   |  BANDOSBANDOLA |   |
|   |  EUROPA |   |   |
|   |   |  EUNICE |   |
| | | | |
| --- | --- | --- | --- |
|   |   |  *BASK++ |   |
|   |  NEGATRAZ |   |   |
|   |   |  *NEGOTKA |   |
|  BOH Romance |   |   |   |
|   |   |  *BARYSZ++ |   |
|   |  CV RUSZ-NEEKA |   |   |
|   |   |  *RUSALKAA |   |