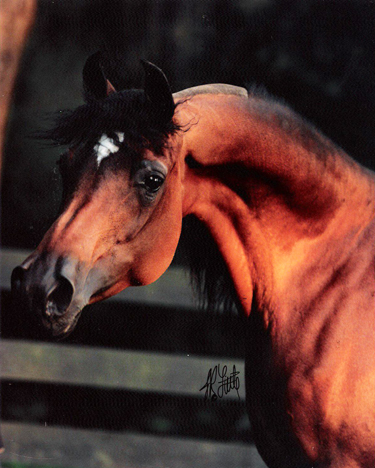 (Negatraz x CV Rusz-Neeka)
1981 Bay Mare AHR 226086
A most elegant mare, BOH Romance was ahead of her time in the 80s-90s. She was a Maplewood treasure beyond description. One of the aristocratic Negatraz daughters, she was tall, airy, and powerful, with the front end desired in today's market. Dam of US National TT Arabian Futurity colt Revelry (who went on to sire 133 progeny), she blessed us with four daughters. Her line is of utmost importance at Maplewood, where she is represented through Nina Ricci MF and Raishea.
Show Pedigree
| | | | |
| --- | --- | --- | --- |
|   |   |  WITRAZ |   |
|   |  *BASK++ |   |   |
|   |   |  BALALAJKA |   |
|  Negatraz |   |   |   |
|   |   |  NEGATIW |   |
|   |  *NEGOTKA |   |   |
|   |   |  *BIGOTKA |   |
| | | | |
| --- | --- | --- | --- |
|   |   |  FAHER |   |
|   |  *BARYSZ++ |   |   |
|   |   |  BANDOLA |   |
|  CV Rusz-Neeka |   |   |   |
|   |   |  CZORT |   |
|   |  *RUSALKAA |   |   |
|   |   |  RUSZNICA |   |