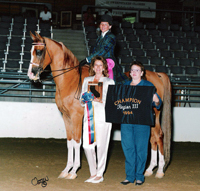 (Srezra Ibn Farwa x Shamri Farwa)
1981 Chestnut Gelding AHR 243213
SOLD!
"ET" is still alive as at 32 in 2013 and a shining example of why we love Arabian geldings. Teaching two families and three sets of young ladies how to ride and win/lose over twenty years of competition, he's a saint of a horse and continues to be loved.
Show Pedigree
| | | | |
| --- | --- | --- | --- |
|   |   |  ABU FARWA |   |
|   |  ELSINORE ABUFARZA |   |   |
|   |   |  ZANAGA |   |
|  Srezra Ibn Farwa |   |   |   |
|   |   |  *KARADJORDJE+++ |   |
|   |  KARADJIL |   |   |
|   |   |  SYMBELLA |   |
| | | | |
| --- | --- | --- | --- |
|   |   |  FERSEYN |   |
|   |  TAMRI-FARWA |   |   |
|   |   |  TAMARI |   |
|  Shamri Farwa |   |   |   |
|   |   |  ABU FARWA |   |
|   |  SHAMARRA |   |   |
|   |   |  SHALLA |   |