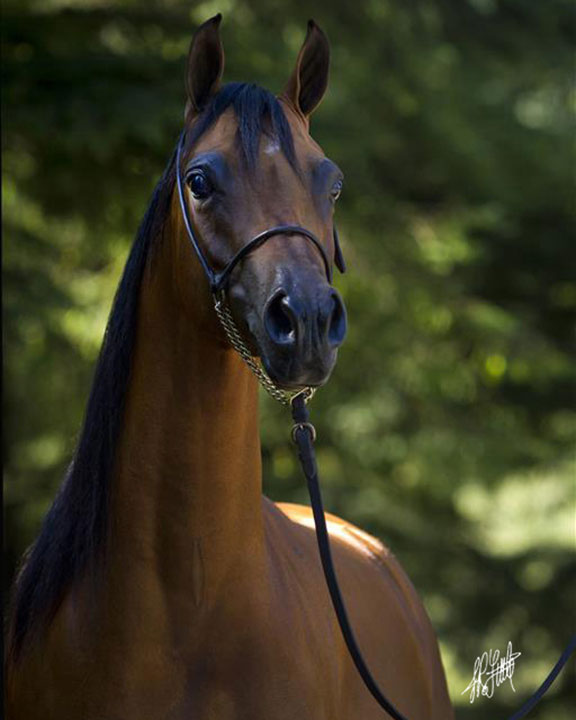 (Erykk MF x Cerrah)
2009 Bay Mare AHR 643199
SOLD!
Foaled 2014 Colt by  *Maddox Van Ryad.  
Riviera MF represents Maplewood's successful infusion of more Comet blood into our breeding program and efforts to create a replacement for our beloved foundation broodmare *Era. She produced well for us, including the exceptional trotting machine Erykk MF, and we look for Riviera MF to carry on the contributions of her grand dam.
Riviera's dam Cerrah was leased by Maplewood based on her strong resemblance to *Era, and based on that fact that, like Erykk, Cerrah's dam is a *Carycyn daughter. Cerrah's pedigree includes some of the most famous Polish trotting stallions in the breed, Gdansk and *Wiraz, with intense linebreeding to *Bask, Comet, Trypolis, and Wielki Szlem. Additionally, Cerrah traces in tail female to the fantastic US National Reserve Champion Futurity Mare Four Winds Kitkat, the foundress of a line of an incomparable show horses that includes the more recent US National Champion Mare Maggdalina.
Triple Comet, triple Bask with four lines to Wielki Szlem – the concentration of Polish athletes in this filly's pedigree is hard to find.
Show Pedigree
| | | | |
| --- | --- | --- | --- |
|   |   |  NEGATRAZ |   |
|   |  BALAGAN |   |   |
|   |   |  MHR PORT MACJA |   |
|  Erykk MF |   |   |   |
|   |   |  CARYCYN |   |
|   |  *ERA |   |   |
|   |   |  ESKAPADA |   |
| | | | |
| --- | --- | --- | --- |
|   |   |  GDANSK+ |   |
|   |  GALLUP |   |   |
|   |   |  *KASACJA |   |
|  Cerrah |   |   |   |
|   |   |  *CARYCYN |   |
|   |  HOMESTEAD CERYCZ |   |   |
|   |   |  HOMESTEAD KAPRYCZ |   |