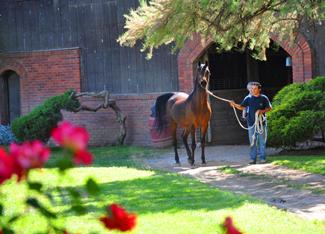 (Fadjurs Prize x Fadjurs Beauty)
1995 Bay Mare AHR 522754
Fadjurz Elite conjurs up images of the past, of her grandsire Fadjur, of a heritage created by the Tones over 50 years ago, and of a future of champions as relevant as that of their ancestors. Fadjurz Elite exhibits desert dryness, thin black vascular skin, a sizzling hot personality, and over-the-top presence. Her flamboyance at the trot leaves you with the impression the ground is on fire – her feet are always off the ground. She is all of the superlatives that made Fadjur famous and etched in our memories the images of mares like Sparkling Burgandy and Jurneeka – mares that redefined our image of the Arabian horse in America.
We are thrilled that, in collaboration with Jack Tone Ranch, we were able to infuse this blood to our strong Polish herd to create our ideal Arabian horse. Her daughter Elite in Love will be a key member of our mare band.
Show Pedigree
| | | | |
| --- | --- | --- | --- |
|   |   |  FADHEILAN |   |
|   |  FADJUR |   |   |
|   |   |  BINT SAHARA |   |
|  Fadjurs Prize |   |   |   |
|   |   |  FADJUR |   |
|   |  MARJIANAZEMTU |   |   |
|   |   |  SURANAZEM |   |
| | | | |
| --- | --- | --- | --- |
|   |   |  FADHEILAN |   |
|   |  FADJUR |   |   |
|   |   |  BINT SAHARA |   |
|  Fadjurs Beauty |   |   |   |
|   |   |  FADJUR |   |
|   |  FADJURSKA |   |   |
|   |   |  SAKI |   |