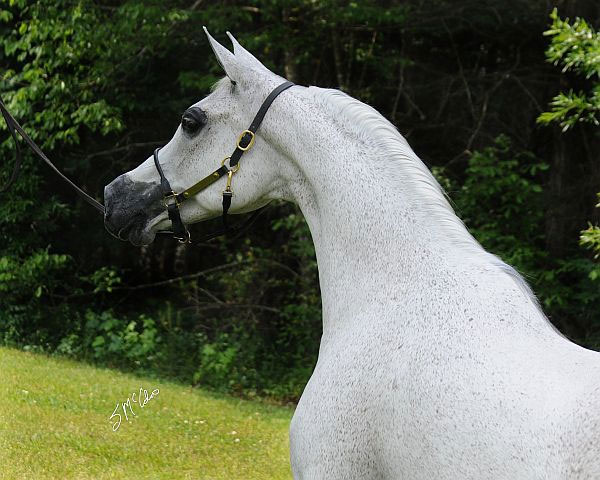 (NEGATRAZ x PR NASADA)
1995 Grey Mare AHR 513924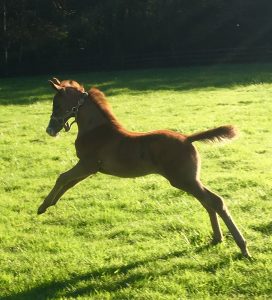 We are devastated to announce that we have a new orphan. MWF Najada lost her battle after raising her 2017 colt by *Maddox Van Ryad for three months. We are grateful for this little guy and for everything she did for him, but will miss Najada terribly.
MWF Najada was our seventh Negatraz progeny. Negatraz was called "A Stallion for All Reasons" – perhaps the best bay pure Polish son of *Bask+++. Najada was born in the same year as our beloved Sequence MF (Negatraz x *Sagana), who we tragically lost. Najada will likely be our last direct Negatraz daughter because, of 563 registered Negatraz progeny, few remain of breeding age.
With this rare and treasured blood comes predictable traits: exquisite huge black eyes, proud carriage, arched necks, heads held high, rich brilliant coats tightly stretched across veins that pulse with vibrancy, fluid athletic motion – the essence of Arab type. And, uniquely, Najada's pedigree taps two lines to *Negotka and her dam *Bigkota – the full sister to *El Mudir, United States Champion Park Horse. With this combination of beauty and athleticism, Najada complements our Maplewood endeavor to breed athletic, functional, and handsome mounts. We believe she is a perfect blend of familiar and trusted lines to bring into our program. She is a Pacific Slope Champion herself and has earned the coveted title of "Arabian Horse World" Aristocrat Arabian Mare, having produced five Champion get:
Navajo X – multiple Sport Horse National Championships
TJP Natasha – U.S. National Reserve Champion Hunter Futurity and multiple U.S. and Canadian National Top Tens Hunter Pleasure
Nouveau Baskin TJP – multiple regional Top Fives Hunter Pleasure and Pacific Slope Champion Hunter Pleasure ATR
Nantucket MM – Hunter Pleasure Champion (Class A)
Nazareth CF – Region 12 Champion Two-Year-Old Gelding In-Hand
Show Pedigree
| | | | |
| --- | --- | --- | --- |
|   |   |  WITRAZ |   |
|   |  BASK |   |   |
|   |   |  BALALAJKA |   |
|  NEGATRAZ |   |   |   |
|   |   |  NEGATIW |   |
|   |  NEGOTKA |   |   |
|   |   |  BIGOTKA |   |
| | | | |
| --- | --- | --- | --- |
|   |   |  ALADDINN |   |
|   |  AAF KASET |   |   |
|   |   |  KASETA |   |
|  PR NASADA |   |   |   |
|   |   |  DAR |   |
|   |  NATALJA |   |   |
|   |   |  NEGOTKA |   |